Pet food varieties proliferate as pet ownership grows
Pet parents are dedicated to their animal companions, as illustrated by the rise of specialty pet foods and the overall market increase for pet foods and treats, expected to post a 5.8% CAGR for the next few years. Quality also partners with convenience as consumers look to customized blends and mixes designed for specialized diets, tailored meal plans, or healthy treats. Among those customized products, organic and vegan pet food varieties continue to rise in popularity, topping $22 billion in 2020. This is attributed mainly to Millennials, the largest segment of pet owners, mimicking their own personal eating habits.  
Maintain hygienic standards with tubular conveyors
Pet foods take a variety of different forms and sizes. From kibble to seeds or pellets and nutrients, Cablevey tubular drag conveyors are designed to handle a variety of common (and uncommonly) used pet foods within the industry. Our systems move pet food products from mixers and blenders to packaging or other processing within the production facility.
Tubular conveyors help streamline pet food processing and maintain both quality and proper proportions in nutritional mixes, snack foods, and other pet food products, product characteristics important to pet food purchasers. Cablevey conveyors are built to withstand repeated washdowns and sanitary cleaning procedures standard in pet food processing in keeping with sanitation requirements. The system design transports products over long distances while preserving part and piece integrity, an essential quality characteristic in the finished product.
Tubular Drag Cable Conveyors are Top Dog for Conveying Dry Pet Foods
Learn how this pet food company cut costs for operations and maintenance on its new line by choosing a tubular drag style conveyor.
Easy to clean
Wet and dry in-tube cleaning options reduce time between changeovers and preserve resources. Clean-in-place methods are also available to improve efficiencies and reduce downtime.
Low maintenance
Tubular drag style conveyors, designed to require simple pneumatic tensioning for the cables, require very little maintenance.
Low impact installation
The modular design lends the tubular drag conveyor immense flexibility and versatility for installation or upgrades as needed. Fits within floor space limitations, up (ascending) and down (descending) inclines or around corners (sweeps at 45, 60 and 90-degree angles).
Cablevey Conveyors Easily Integrate into Production Facilities of All Types
Learn how Cablevey tubular conveying systems integrate into almost any type processing system, adapting to limited spaces and plant footprints, or traveling between floors and even buildings, depending on system requirements. System design offers incredible flexibility.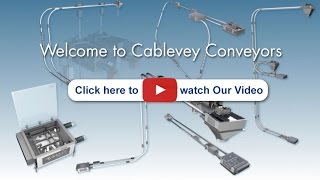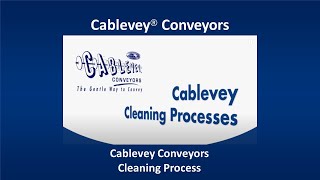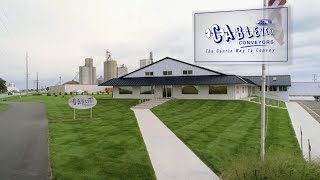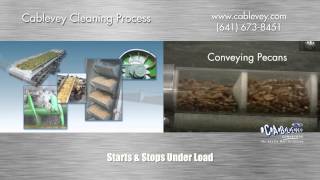 Moving Leading Brands Forward
Frequently Asked Questions
Can cable and tube pet food conveyor systems move cooked, chopped, powdered, or puree animal food materials?
Yes. Cablevey® Conveyors Pet Food Conveyor Systems are designed to move pet food materials in all forms.
Are cable and tube coffee bean conveyor systems safe and sanitary?
Yes. The enclosed tube environment keeps your materials clean, free of contamination, and safe while in transit. Enclosed tubes also serve to keep wastage low and your plant clean and dust-free.
How is a tube conveying system cleaned?
Wet, dry, and in-line cleaning options are available. As part of our engineering and service process, we will work with you to determine the best easy cleaning solution for your needs and train you on how to use specified equipment.
It is with great pleasure that Cablevey Conveyors renews its partnership with Matsuda Pet. With a relatively short 20-year history, Matsuda Pet has nevertheless seen bountiful growth, increasing productivity and high-quality product development. With three production...
read more