Snacking more than an occasional treat
Consumers have a case of the munchies, snacking more today than at any other point in history. According to an IRI Research report, an increasing number of younger adults consume five or more snacks daily, with the average U.S. adult eating 2.7 snacks per day. Millennials are the driving force behind snack mixes and blends, which can contain a variety of fragile components, such as pretzels or chips. The more variety the better, including different sizes and shapes from twists and rounds to squares, nuggets, and pieces. Each shape or component needs to maintain its proper form and pre-determined blend ratio in the proper proportions in the final snack food package.
Tubular conveying preserves delicate snack components 
Convey delicate snack foods and components with confidence for less product waste and loss. Whether sold independently or as part of a mix, snack components and foods require a combination of containment and gentle conveyance to avoid the breakage of delicate elements. For this, a tubular drag conveyor serves as the most practical style conveyance for snack foods. Materials enter the input of the conveying tube and fall into compartments separated by discs attached to a central cable, which glides the materials to the next step of processing or packaging without air or excessive force. The enclosed tubular container with modular compartments separated by the cable's discs helps preserve proportions in snack blends and mixes while ensuring product integrity. The system is easy to clean and requires less downtime than other systems for changeovers and proper sanitation.
The Complete Guide to Sanitary Conveyors in Food Processing
Before selecting a new conveyor for your food processing operations, discover the options for conveyor cleaning and sanitation. (or…discover how conveyor systems can help promote food safety and product quality.)
Gentle on materials
Gently convey delicate and friable materials through all phases of the production process. Our cable and tube conveyor design preserves product integrity to minimize breakage and loss.
Enclosed, sanitary and dust free environment
Enclosed tube conveyors improve plant safety and hygiene by drastically reducing dust while protecting against product contamination.
Blend integrity
Disc system mounted on the cable keeps contents secure from inlet to discharge. Safeguard preblended mixes of varying bulk densities for accurate proportions to eliminate sifting or product loss.
Cablevey Conveyors Help Save on Energy Costs
Video illustrates a potential layout and pathway for products gently transported through an enclosed, tubular conveying system from Cablevey. A 5HP motor that drives the system keeps products moving while keeping energy costs low.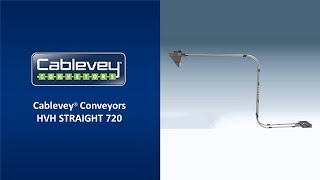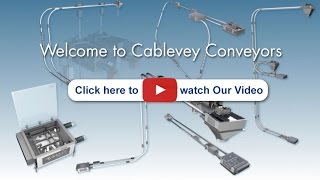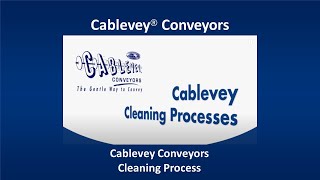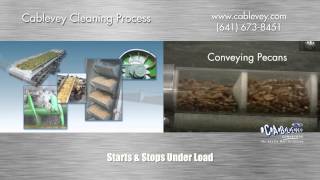 Moving Leading Brands Forward
Frequently Asked Questions
Is a tubular cable and disc snack food conveying system better than other types of snack food conveyors?
From our experience, there are no other conveyors that can meet the same standards for efficiency, energy savings, material protection, workplace and food safety, and cleaning and maintenance, as tubular cable and disc conveying systems.
Are cable and tube coffee bean conveyor systems safe and sanitary?
Yes. The enclosed tube environment keeps your materials and product clean, free of contaminants, and safe while in transit. Enclosed tubes also serve to keep wastage low and your plant clean.
How is a tube conveying system cleaned?
Wet, dry, and in-line cleaning options are available for our conveying equipment. As part of our engineering and service process, we will work with you to determine the best cleaning solution for your needs and train you on how to use specified equipment.
Snacks are more than just little bites between meals - they play a more significant role in today's society than one might realize. Throughout human history, the content and frequency of meals have always varied. From ancient times, people consumed leftovers and light...
read more
[rev_slider snack] Product damage caused by the transport of friable materials during processing is a huge — and costly — concern for manufacturers of many kinds of food, industrial and consumer products. For more than 40 years, Cablevey Conveyors...
read more