The food industry heeds the call for increased production
As the global population expands to an anticipated 9.3 billion by 2050, the Food and Agriculture Organization estimates the world's agricultural industry will need to produce 60% more food than to provide adequate nutrition for that size population. Every aspect of manufacturing and conveying can contribute to this goal, improve efficiencies, and reduce waste and breakage. The proper conveying system can help reduce waste and preserve product integrity.
Tubular conveying helps prevent food waste
Prevent food waste by preserving product integrity with a tubular drag conveyor from Cablevey. Whether processed, dried, frozen, or fresh, a Cablevey tubular drag conveyor can aid food processors and manufacturers that need gentle conveyance for delicate materials or ingredients to preserve quality and edibility. Tubular drag system conveyors are hygienic and offer shorter cycle times for more thorough cleaning than other conveyors, facilitating more rapid changeovers. The enclosed design helps prevent contamination and drastically reduces dust. Count on our depth of experience in the food industry for FDA-approved materials like 304 stainless and food-grade engineered plastics for proper compliance.
See also: Baking Ingredients
The Complete Guide to Sanitary Conveyors in Food Processing
Before selecting a new conveyor for your food processing operations, discover the options for conveyor cleaning and sanitation. (or…discover how conveyor systems can help promote food safety and product quality.)
Enclosed, sanitary, dust free environment
Enclosed tube conveyors improve plant safety and hygiene by drastically reducing dust while protecting against product contamination.
Easy to Clean
Wet and dry in-tube cleaning options reduce time between changeovers and preserve resources. Clean-in-place methods are also available to improve efficiencies and reduce downtime.
Gentle on materials
Gently convey delicate and friable materials through all phases of the production process. Our cable and tube conveyor design preserves product integrity to minimize breakage and loss.
Increase Throughput of Friable Goods with Cablevey's New Eight-Inch Tubular Conveyor
Learn about Cablevey's newest system for improved throughput of friable materials with its eight-inch diameter tube. Video shows product examples of friable materials such as rice, coffee beans, cereal and more from inlet through discharge.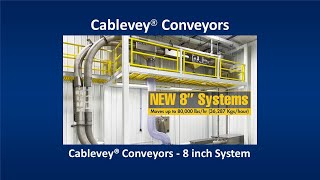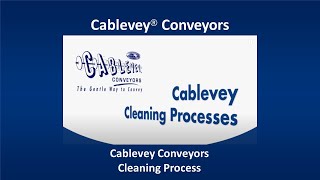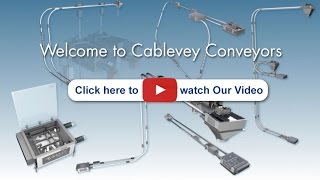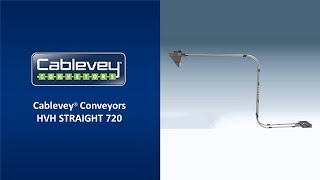 Moving Leading Brands Forward
Frequently Asked Questions
Can pre-batched loads include powders or wet materials?
Yes. Our food conveyor systems are designed to move materials in all forms including powdered and wet forms.
Are cable & tube food conveyors safe and sanitary?
Yes. The enclosed tube environment keeps food materials clean and safe while in transit. Enclosed tubes also serve to keep wastage low and your plant clean.
How are tube conveyors cleaned?
Wet, dry and in-line cleaning options are available. As part of our engineering and service process, we will work with you to specify the best cleaning solution for your needs and train you on how to use specified equipment.
Conveyor systems have forever altered the way we move goods and products around. Replacing manual labor with a mechanized system, conveyors can move more goods faster and with more precision. No longer are we confined to moving objects by hand or with pushcarts. In...
read more