General Food – Baking Ingredients
Positive outlook for the baking industry
According to recent industry surveys, an overwhelming majority of bakers reported a positive outlook for all channels, including retail, food service, and distributorships. However, like other industry professionals, bakers find themselves facing supply chain and labor issues, along with rising prices for raw materials. Tight profit margins necessitate instituting efficiencies, including those in transporting baking ingredients within production facilities. Baking ingredients present the operator with a broad range of sizes, weights, material types, and specific blend ratios, creating challenges that the right conveyor can help overcome.
Portions and precision essential for baking ingredients
While a high degree of artistry is involved, baking is essentially a science of exact proportions. 
Baking processors require precision measurements for mixes and blends to ensure successful product creation for the end-user. The Cablevey tubular drag conveyors present a solution to this challenge with an enclosed system that prevents shifting or separation of ingredients with a range of sizes and weights. Prevent product contamination, eliminate waste, and reduce dust for a cleaner, safer operating environment with a tubular conveyor system. 
State of Conveying Report
An independently commissioned survey report reveals insights into top food processing industry challenges, automation goals and their relation to conveyor problems, preferences and the critical factors involved in purchase decisions.
Enclosed, sanitary, dust free environment
Enclosed tube conveyors improve plant safety and hygiene by drastically reducing dust while protecting against product contamination.
Blend integrity
Disc system mounted on the cable keeps contents secure from inlet to discharge. Safeguard preblended mixes of varying bulk densities for accurate proportions to eliminate sifting or product loss.
Easy to clean
Wet and dry in-tube cleaning options reduce time between changeovers and preserve resources. Clean-in-place methods are also available to improve efficiencies and reduce downtime.
Cablevey Conveyors Easily Integrate into Production Facilities of All Types
Learn how Cablevey tubular conveying systems integrate into almost any type processing system, adapting to limited spaces and plant footprints, or traveling between floors and even buildings, depending on system requirements. System design offers incredible flexibility.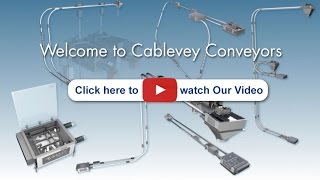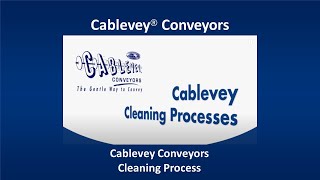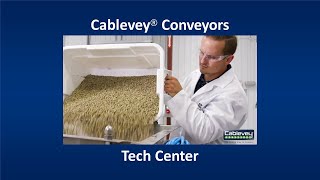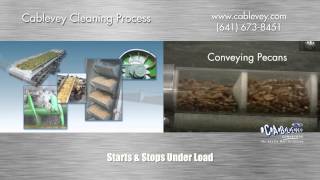 Moving Leading Brands Forward
Frequently Asked Questions
Can pre-batched loads include powders or wet materials?
Yes. Our food conveyor systems are designed to move materials in all forms including powdered and wet forms.
Are cable & tube food conveyors safe and sanitary?
Yes. The enclosed tube environment keeps food materials clean and safe while in transit. Enclosed tubes also serve to keep wastage low and your plant clean.
How are tube conveyors cleaned?
Wet, dry and in-line cleaning options are available. As part of our engineering and service process, we will work with you to specify the best cleaning solution for your needs and train you on how to use specified equipment.
Compared to other industries that have taken quite a hit from the start of the COVID-19 pandemic, the frozen food industry has actually seen an uptick in sales. The size of the frozen food market is only expected to grow in the coming years, which means that more and...
read more