Powdered materials prevalent across industry sectors
Almost every industry has a powdered version of products or ingredients that will require transport throughout a production facility for further processing. This includes edible powders such as flour, sugar or protein concentrates and isolates in the food industry or powders for industrial use such as plastics or chemicals. One constant and pressing problem is dust due to its potential for combustion and its potential to contaminate materials. The consequences can be costly and hazardous.
Address dust concerns with tubular conveying
Convey powders securely and with confidence with Cablevey tubular drag conveyors. An enclosed dust conveyor system, such as the tubular cable conveyor from Cablevey, addresses concerns over dust containment for dust explosion prevention and to prevent contamination, for cleaner handling of powdered materials. The modular tubing system conveys powdered materials with discs attached to the central cable, pushing the materials spaced into segmented compartments similar to a string of small train cars. This mitigates dust and dramatically reduces the chance of contamination. It also facilitates portions when required for mixes or blended powders. Separate inlets allow powders to be deposited into the individual spaces or compartments for controlled transport of powdered mixes and blends.
The Ultimate Guide to Enclosed Tubular Drag Cable and Disc Conveyors
Find out how to preserve product integrity of delicate or challenging materials by weighing the options among conveying technologies.
Enclosed, sanitary, dust free environment
Enclosed tube conveyors improve plant safety and hygiene by drastically reducing dust while protecting against product contamination.
Easy to Clean
Wet and dry in-tube cleaning options reduce time between changeovers and preserve resources. Clean-in-place methods are also available to improve efficiencies and reduce downtime.
Low maintenance
Tubular drag style conveyors, designed to require simple pneumatic tensioning for the cables, require very little maintenance.
Cablevey Conveyors' Tech Center Keeps it One Step Ahead of the Competition
New tech center at Cablevey Conveyor headquarters helps clients and future customers test products for the best tubular conveyor system layout and design.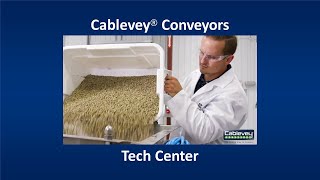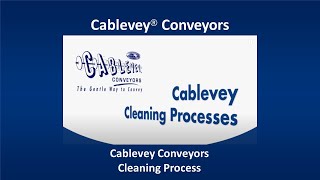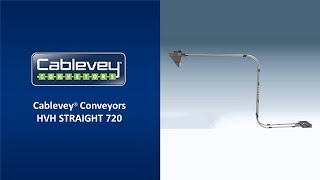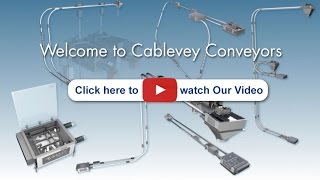 Moving Leading Brands Forward
Frequently Asked Questions
Can pre-batched powders be moved with cable & tube powder transfer systems?
Yes. Our power transfer system safely moves all kinds of powders including pre-blended mixes with ingredients of varying bulk density ratings. The safe movement of blended mixes is made possible by cable & tube technology that contains mixed ingredients in sealed capsules that keeps all contents safe during movement.
Are cable & tube feed conveyors safe and sanitary?
Yes. The enclosed tube environment keeps feed materials clean and safe while in transit. Enclosed tubes also serve to keep wastage low and your plant clean.
How are tube conveyors cleaned?
Wet, dry and in-line cleaning options are available. As part of our engineering and service process, we will work with you to specify the best cleaning solution for your needs and train you on how to use specified equipment.
Compared to other industries that have taken quite a hit from the start of the COVID-19 pandemic, the frozen food industry has actually seen an uptick in sales. The size of the frozen food market is only expected to grow in the coming years, which means that more and...
read more